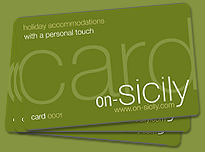 Klik hier voor de
Nederlandse versie
New for 2012, the on-Sicily card!
As a guest of on-Sicily.com you'll get the on-Sicily card. You can use this card during your stay in Sicily in several different places. You can use your on-Sicily card as often as you like, unless a certain participant offers you a one-off discount. One-off discounts are clearly mentioned on this page.
You'll get the discounts and extras at the mentioned participants when you show them your on-Sicily card. The participants who offer you something one-off will write down the (unique) on-Sicily card number.
On this page you'll see where you can use your on-Sicily card and what kind of extras and discounts you can expect. You can scroll down or click on one of the following links to see a particular category: