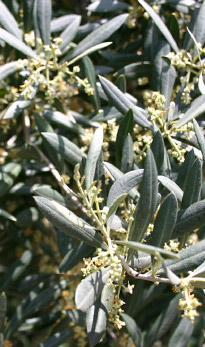 Klik hier voor de
Nederlandse versie
In Sicily you'll find an abundance of olive trees, always planted in perfectly spaced and well groomed patterns. After about five years the trees begin to bear fruit. Each Spring, in May, the olive trees begin to bloom and the pistils of the small white flowers will eventually become olives.
Olives are harvested in early November. Initially nets are placed under the olive trees after which the farmers use a wooden fork to rake the olives from the trees. They use wooden ladders to reach the highest branches. The olives are then collected from the nets and put into crates or buckets.
The main types are green, dark and brown olives. The green olives are picked before they are fully ripe, while the black ones are fully ripe when they are harvested. Freshly picked olives cannot be eaten immediately, because they are very bitter! The olives you'll find in the store are already treated to remove this bitter taste. This treatment means that for several weeks the olives will be kept in tanks with water and salt (and sometimes some herbs) or placed in oil, after which they are often pitted and in some cases also filled. Only then are they ready for consumption.
It will come as no surprise that you'll find olives in a lot of Sicilian dishes. A good example is the famous caponata, a typical Sicilian starter. On our Recipes page, you'll find a recipe for the Capanota antica, the traditional caponata.
Today the olive is still one of the most important agricultural products in Sicily.