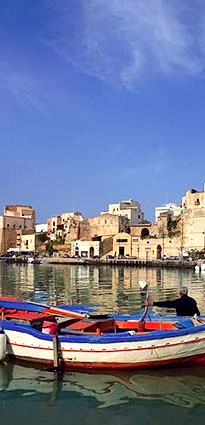 Klik hier voor de
Nederlandse versie
Welcome to Castellammare del Golfo!
Castellammare del Golfo is a nice little Sicilian coastal town close to Balestrate on the Golfo di Castellammare, the famous gulf in Northwest Sicily. The harbor, dominated by the castello (castle), is Castellammare's biggest attraction. Early in the morning you will see fishermen going out to sea in their typical blue and white fishing boats, later returing with freshly caught fish for the local markets and restaurants. You can book a guided boat trip or even rent a boat yourself to explore the Golfo di Castellammare.
In the summer period Castellammare's harbor comes to life at night and the area becomes a pedestrian zone, where you can visit several bars, pubs and restaurant. Sitting on a terrace overlooking the harbor, you can enjoy a cocktail, Sicilian wine, handmade ice-cream or a refreshing Sicilian granita.
The corso is also a nice area for shopping and from the town square you can arrive to the smallest of the two sandy beaches. The other, much larger, beach is located just outside of Castellammare del Golfo. In the summer period you will find some lido's, where you can rent deckchairs and a beach umbrella, however, the marjority of Castellammare's sandy beach has free access. In this area you will also find several beach establishments, bars, and restaurants.
Castellammare del Golfo is also an excellent starting point for visiting all cultural attractions in the area. You can easily reach (10-15 minutes by car) the famous nature reserve Lo Zingaro, and the small town of Scopello, with its well known Tonnara, where we organize scuba diving activities and boat trips. Other locations well worth a visit are the medieval town of Erice, the temple and amphitheatre of Segesta, the archeological park in Selinunte, the salt pans (saline) near Marsala, the cathedral of Monreale, downtown Palermo and many more! You will find more information about these locations on the culture page under the menu item the area.
Arrivederci a Castellammare del Golfo!